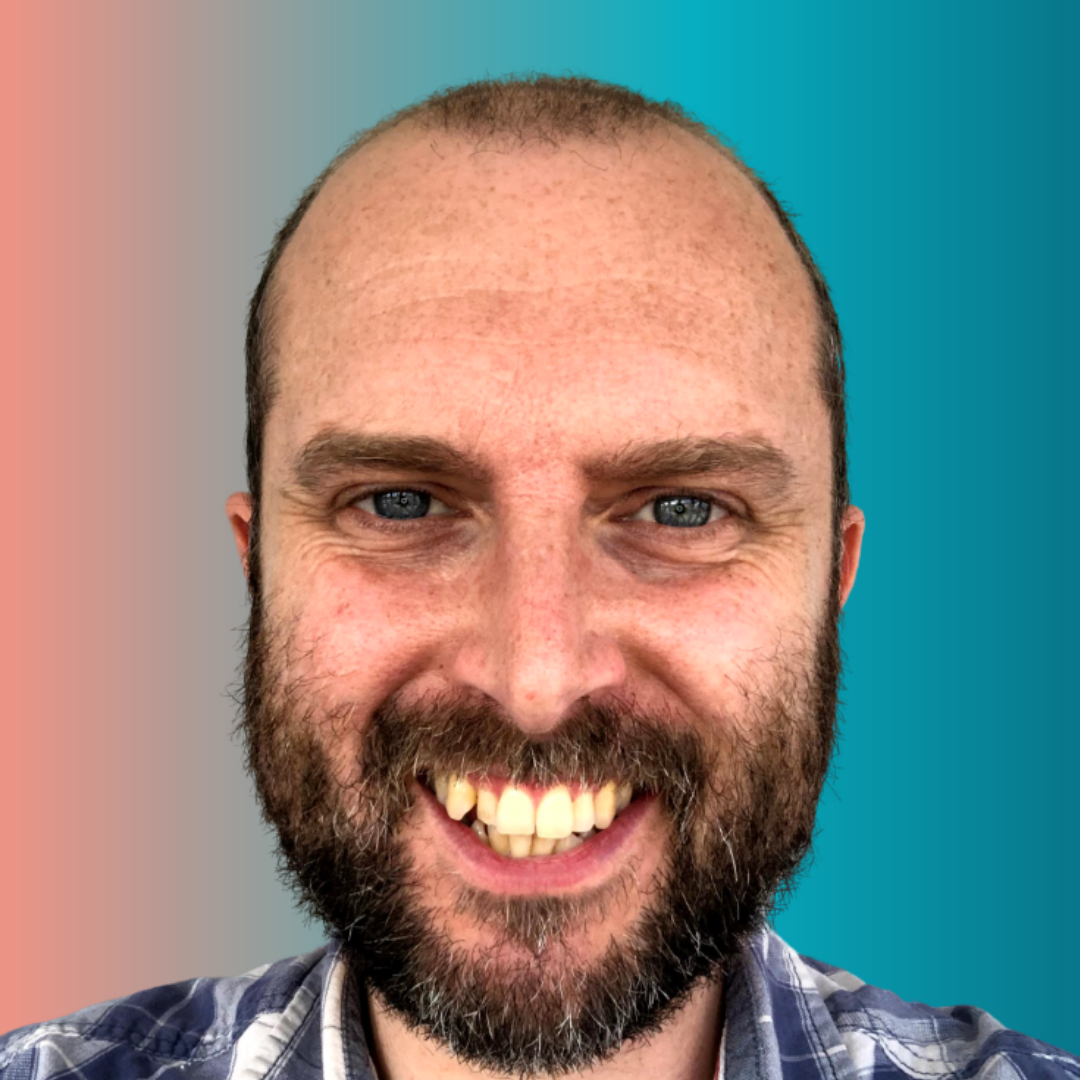 Nick Lockey
Product Strategist & UX Researcher
A remote customer research and service design project for a leading insurance brand
A fully remote research project to uncover customer and business frictions.
The client
A major UK car and home insurance brand With over 2.7 million customers and over 3,400 employees. The organisation came to us at a moment of unprecedented growth with a desire to become the UK's leading digitally-led insurer.
The challenge
To identify pain points across the customer service user journey and investigate why they were happening. Ultimately, the goal was to help the client increase customer satisfaction, retention, and conversion whilst also driving operational efficiencies.
The audience
'In-life' vehicle insurance customers who were attempting mid-term adjustments, payments and cancellations. Also, we looked at the experiences of the front-line staff who were working directly with these customers.
The complication
This project presented a further challenge: It had to be delivered fully remotely due to the unfolding Covid-19 pandemic. This meant everything from the research to the design and playback had to be conducted without any of the project team, clients or customers ever meeting up in person.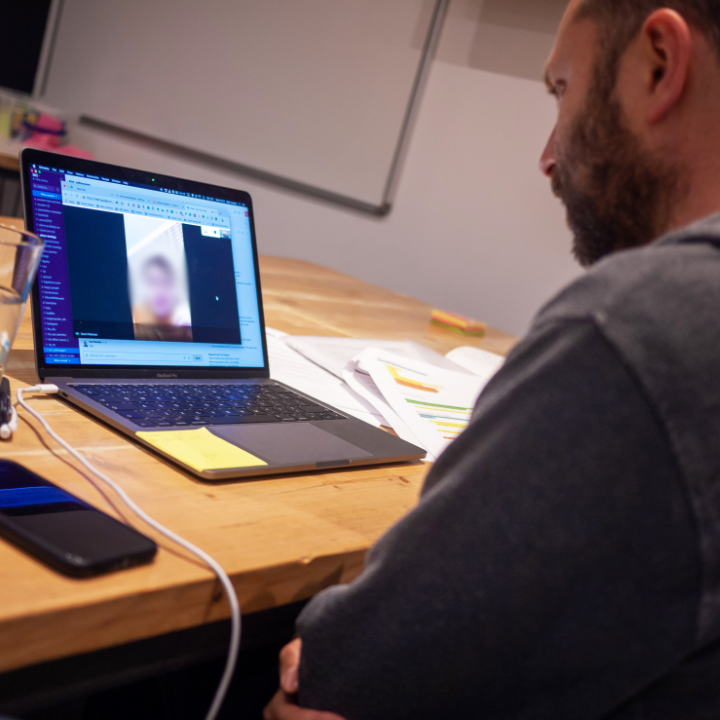 My role
I was the Product Strategist for this project, working closely with a Lead Designer and with support from a Project Manager and Client Partner.
My responsibilities included:
Workshop facilitation

Desk research

Field research

User and stakeholder interviews

Knowledge management

Project synthesis

Creative collaboration on the map design

Report writing

Client playback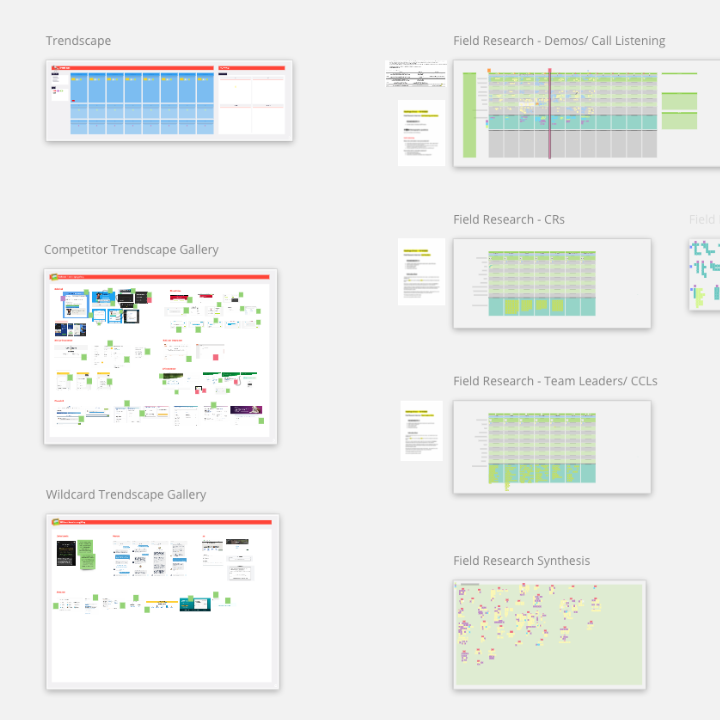 Remote working
This project was the first one to use our agency's newly created 'remote working framework' in which I played a lead role in the development.
This involved a range of custom, integrated templates, workspaces and workflows spanning Miro virtual whiteboards, Dovetail research libraries, Google Sheets, Google Docs and Otter AI transcription.
Friction mapping
Our solution to the brief was to use 'friction mapping'; our in-depth research framework combining user-centred design, journey mapping, experience mapping and 'Jobs to be Done' research to uncover and chart user pains. We'd then bring the findings together in an in-depth report and as a visual design artifact that enabled the client to quickly identify problem areas for prioritisation. Here's how we approached it: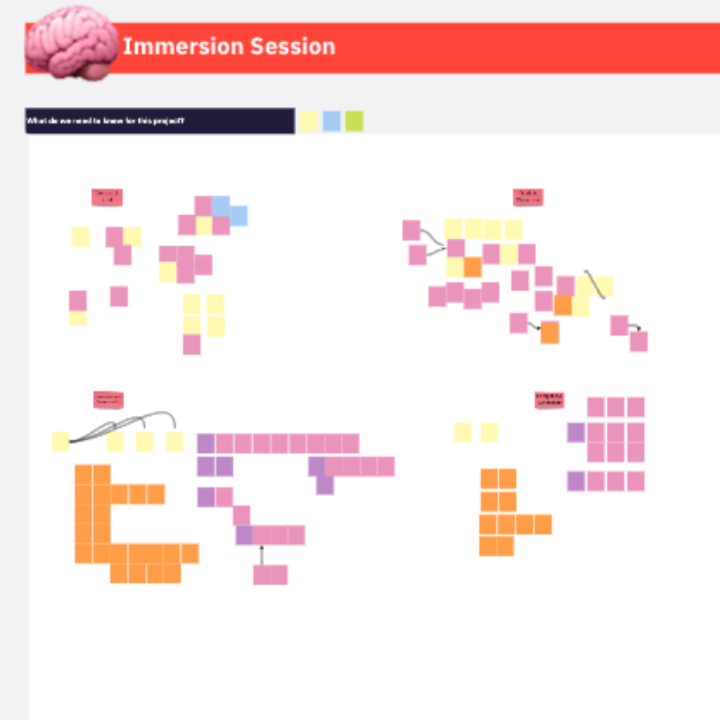 Immersion workshop
I co-facilitated a half-day immersion workshop with key business stakeholders and domain experts to refine the brief and uncover key business needs, challenges and strategic objectives. This was conducted completely remotely using a combination of Microsoft Teams video conferencing and a collaborative Miro board.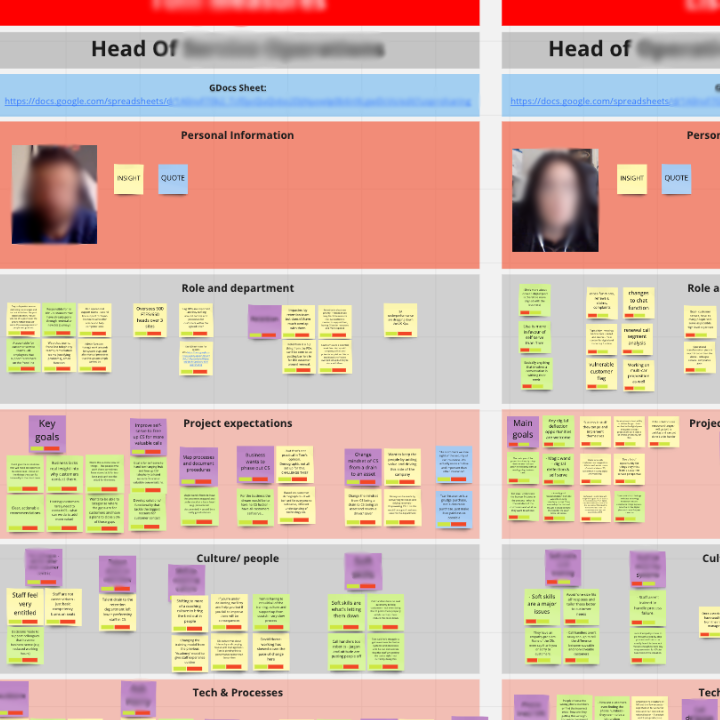 Stakeholder interviews
Next, I conducted separate one-hour remote video interviews with our two main project sponsors, plus a further interview with the organisation's Director of Operations. This enabled us to further understand the underlying commercial, cultural and marketplace factors that were driving the brief. It also enabled us to see where these diverged and overlapped between the different departments involved.
These insights were pivotal in helping us shape our ongoing research and generate scripts for our subsequent first-hand research phase.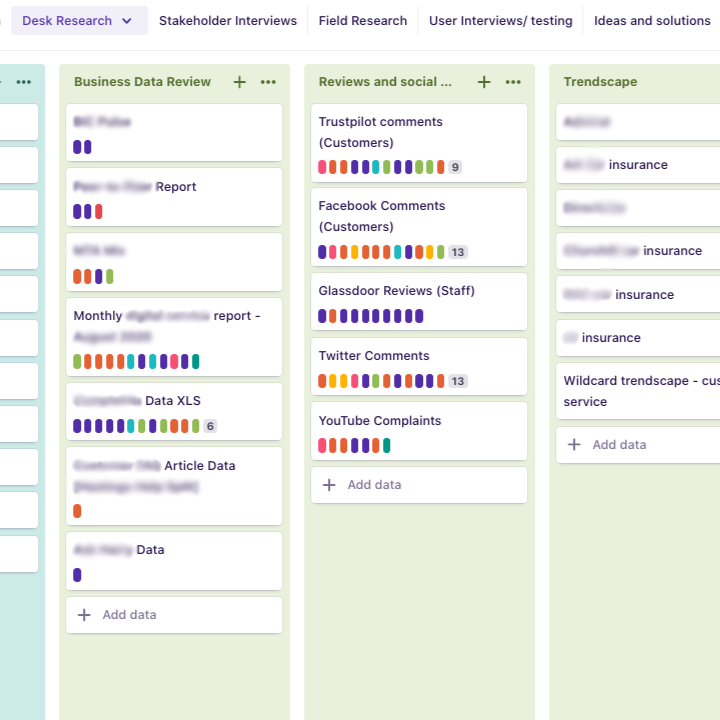 Desk research
The objective here was to gather a wider understanding of the industry, the marketplace factors and the business. For this project we allocated four days of desk research time for both myself and our designer, with three days up-front and a further day near the end to chase up leads from the rest of the research. We looked at the following:
Business data

Customer sentiment across social media and internal VOC data

UX reviews of core platforms and processes

Competitor analysis

Reviews of industry trends and insights through whitepapers, articles and blogs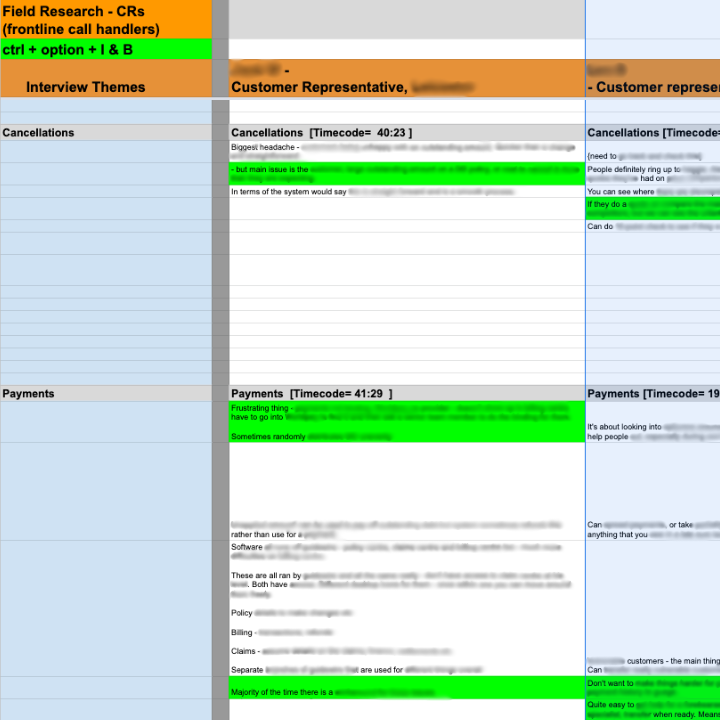 Remote field research
Here we wanted to get a sense of what it was like working in the call centres, both to further understand the customer experience and to better empathise with staff working on the frontline. As we were unable to visit the call centres in person due to the pandemic, we had to get a bit more creative to make this work remotely. This involved:
Remote interviews with multiple call handlers, team leaders and call centre managers across three locations.

Call listening and screen-sharing sessions for customer calls and live chats, giving us a sense of what actual customer interactions were like.

Analysis of the core platforms and systems used by call handlers as well as key training materials and scripts.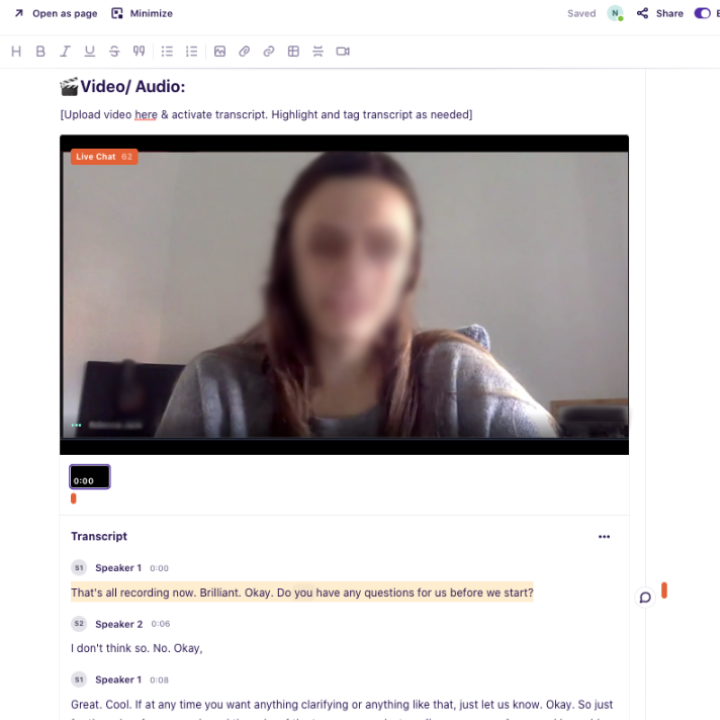 Customer interviews
Finally, we conducted 10 x 60-minute remote interviews with real customers, helping us to contextualise the data we were seeing. This enabled us to:
Understand more about customer goals across the journey.

Explore their approach to achieving those goals.

Learn about the context in which they attempted them.

Find out where and why they were struggling.

Build empathy for how they were feeling in those moments.

Uncover the wider knock-on effects of the frictions they encountered.
Project synthesis
Collaborating closely with our designer, I worked to synthesise our findings throughout the project. Here's how I approached it:
The war room
We performed rolling, in-flight synthesis throughout the project, capturing and analysing our research findings in our custom Miro 'war room'.
Pattern recognition
We used a variety of synthesis tools and techniques, including affinity mapping, tag libraries and highlighted video transcripts to map recurring themes and observations from each stage of the research.
Final synthesis
We then wrapped things up with a larger multi-day synthesis session at the end of the research phase where we distilled all of our insights down into our final, high-level observations.
Digital superpowers
Our digital tools really came into their own in this project, allowing us to tag, duplicate and remix our findings in a way that wouldn't have been possible using physical post-its and sharpies.
Sketching the 'friction map' design
With the research phase complete, we set about pulling these together into a 'friction map' artifact; the detailed customer experience map that would illustrate the user pains across the end-to-end customer journey. To do this I worked collaboratively with the designer to create a rough visualisation of the map in Miro using basic shapes and digital sticky notes. This enabled us to continually tweak and adjust the map until it made the most narrative impact for the client.
Final designs and playback
The 'friction maps'
Instead of the single design artifact that we'd initially anticipated, we ended up with three separate visualisations each showing a different element of the story. These could then be read as a whole in a fourth, 'combined' version of the map.
Taken together, this enabled the client to instantly focus on any part of the journey, to see what the customer was trying to achieve, how they arrived at that moment, the pains they experience there, what might be causing them and where this could lead the customer to next. The map elements consisted of...
The journey stages
A simple visualisation of the customer journey showing the high-level 'jobs' the customer was trying to fulfill at each stage.
The 'journey flow'
An intricate web of cause and effect that visualised how the customers continually moved closer to, or further from, their desired goals.
The user frictions
A detailed 'friction map' split into two swim lanes, one showing the customer pains across the journey, and the other showing the organisational root causes underpinning them.
The heat map
The frictions were colour-coded by anxiety level and were grouped into thematic clusters, clearly highlighting areas of focus for the client.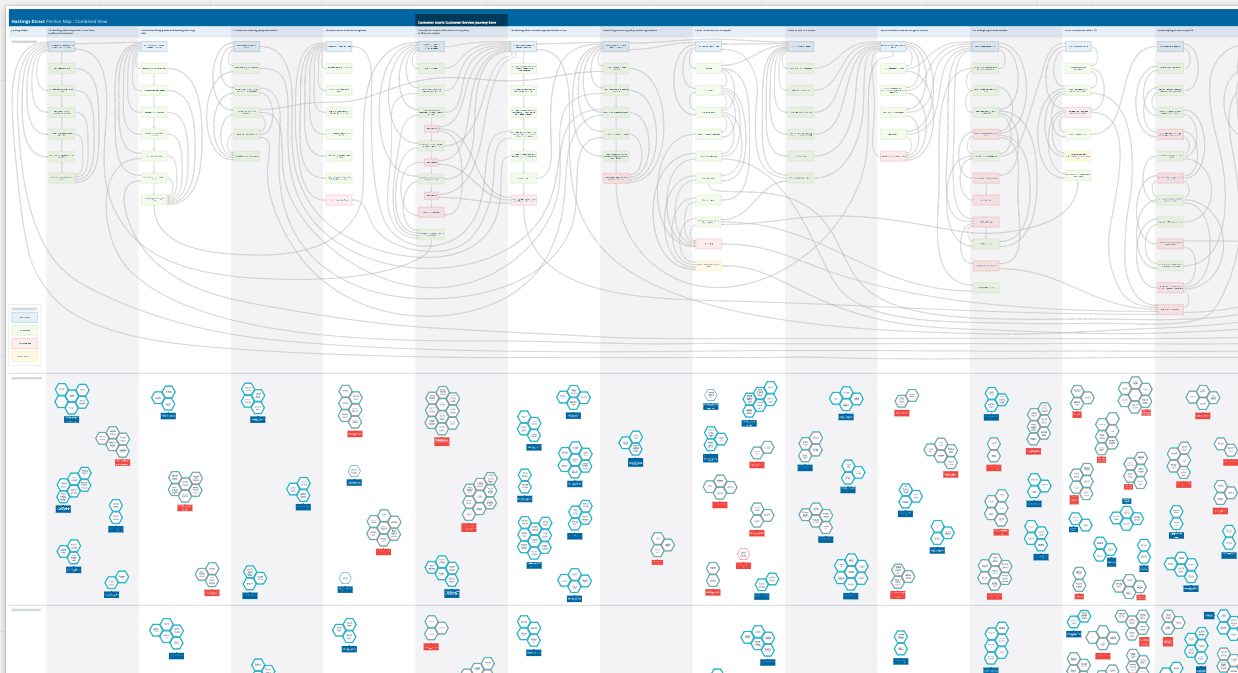 Playback
The artifact was accompanied by an in-depth findings and recommendations report and a three-hour playback workshop. Here, we walked the client stakeholders through our findings, bringing the narrative to life with real-life case studies taken from our customer and staff interviews.
Strategic priorities
Ultimately we were able to turn our findings into a list of prioritised recommendations for the client, focussing both on short-term 'quick wins' and higher-level strategic goals for the future. These are now being actively considered as part of their ongoing business planning.
Here are some of the key things we were able to deliver:
100+
Customer goals
identified
400+
Customer frictions & observations documented
300+
Internal factors &
root causes found
4
Unique map design
artifacts created
Reflecting on the project
Remote working definitely presented an additional challenge to an already complex project but the end result actually surpassed anything we could have delivered using the old-school, analogue approach. Our remote tools actually gave us superpowers, not only in terms of how we were able to manage the research data and design, but also the design artifact that we were able to present to the client.